Cascading Style Sheets (CSS) is important as no one can imagine a website without it. Gone are the days of writing plain HTML. In recent time, CSS has become the most popular method which developers make use of through frameworks for web development. In the past, most web styling and designing was primarily done only with the help of HTML. However, now both HTML5 frameworks as well as popular CSS libraries have been coupled together to achieve the best possible results. The good thing about CSS frameworks is that it has never been stagnant and keeps on evolving to meet the demands of web development. Nowadays every developer, front-end designer loves to know what's trending in the css framework popularity list.
So are you wondering what a CSS framework is? It's nothing but a set of default CSS and HTML files which acts as a code base to create and build upon. CSS frameworks are gaining a large amount of popularity, especially among developers in 2017. These frameworks usually include CSS resets, buttons, and a few common layouts which are geared towards saving time for developers. Confused by the various css frameworks and don't know which one to use? For your convenience, we've narrowed it down to some of the best responsive CSS frameworks of 2017. Let's take a look at the popular css frameworks of 2017.
1. Bootstrap – Bootstrap 3 is currently in use. Owning to its popularity Bootstrap 4 is currently in development. Its ability for building rapid prototyping websites, web design concepts as well as mobile web designs has made it flexible and dynamic as a CSS framework. It offers the best css grid system. So what can you essentially do with Bootstrap? As the best responsive CSS framework it can easily be used for building grid systems, buttons, forms, and various other options which are required for modern web designs and patterns. Bootstrap CSS is so popular that most front-end web developers list it among the top 10 css frameworks.
2. Materialize CSS – Material design CSS frameworks have been growing in popularity and are now used as a developer's first choice. This CSS framework has surpassed all expectations and is hailed as one of the best material design css frameworks, especially in terms of functionality. Focus has been placed on four main categories such as CSS, Javascript, Mobile and Components. Believe it or not but this material design based CSS framework has more than 15,000 starts on GitHub. Most web developers consider MaterializeCSS to be among the top css framework for 2017. Now you know why almost all developers are using it.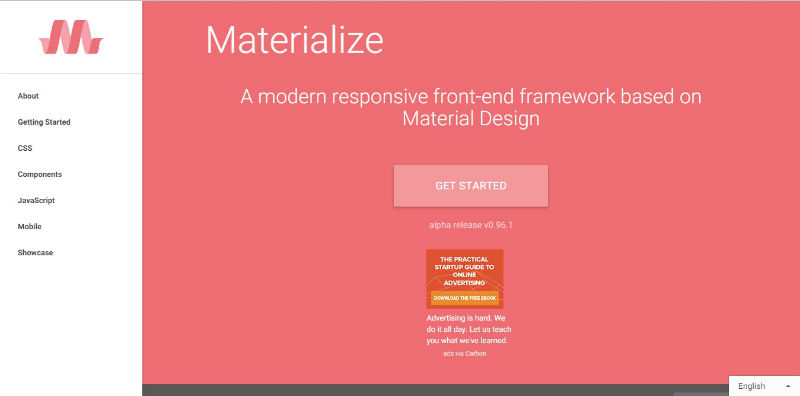 3. Leaf – If you haven't heard of this, you should certainly give it a try. It's one of Google's material design frameworks. Kim Korte is a young developer from Sweden whose talents and abilities have been put to use with Leaf. This framework makes use of the CSS library approach and offers a myriad of different ways in which one could easily incorporate material design elements into website pages as well as web design concepts. If you're wanting to know more of the capabilities of this light but powerful framework, browse through the components tab.
4. Foundation – The very name itself is apt, as a CSS framework is the foundation for website designing. This is among the top CSS frameworks and is one of the most famously known and widely used CSS framework. What makes this framework so special, unique, and different is that it is extremely smooth and very responsive. It's perfect for website building, for building email templates as well as many web and mobile applications. This framework is very user friendly and is easy to learn. There are numerous tutorials even available which can help you better understand how to use this CSS framework.
5. Cascade – CSS framework creators are aware of the creativity embodied in developers and their need for a highly customizable and functional framework. Developers love the freedom to do what they want with CSS frameworks and this is precisely what Cascade offers. You can make use of both semantic and non-semantic css grid layouts, table designs, base templates and a ton of more useful features are bundles with Cascade. This universal approach allows many developers to build high performance web pages quite seamlessly. Its modular approach has made it one of the best CSS frameworks of 2017 to use. Since it allows you to choose the most important things for your project, it leads to a reduction in size. This CSS framework is quite a lot like Bootstrap in many ways.
6. Essence – Essence is one of those lightweight CSS frameworks which won't take up much space even as your workload and number of projects increase. Many developers today love to stylize their web designs which often takes up a lot of space. Being a lightweight CSS framework, Essence seems to be prioritizing responsive web designs, especially for mobile development. It is well optimized to fit mobile screens while still retaining full functionality. This framework is aimed at helping gain more mobile visitors. The stylesheet included in Essence makes you feel like building with lego bricks. If you love a bit of options then Essence could very well be your best css framework for responsive design!
7. Concise CSS – This CSS framework is stripped down to the most important functions in order to keep the framework light. This is built on Object-Oriented CSS principles to provide a highly customizable experience while still being easy to use. Concise CSS provides a simple environment for development which is both simple to use and highly functional. Add-ons are also available and can be made use of while working on your project in Concise CSS.
8. Blueprint CSS – This framework has been known to cut down on development time, making developers all over the world extremely happy. Often the best css grid platform is easy to use and serves as the very base foundation for building your project. It aims at building smooth and responsive websites. A library of typography features can also be located within this CSS framework to allow you to use any font sizes you wish to. Blueprint is known as one of the simplest CSS frameworks in use today.
9. Modest Grid – At times all that developers need is a good, reliable, smooth, responsive, modern grid template to get their projects started. Modest grid is really modest in the sense that it offers all that you need, providing users with a concise grid template to work with. This css grid framework is under constant development and major improvements are likely to be seen as CSS itself evolves. Modest Grid is probably the simplest css grid framework of 2017.
10. Metro UI – This focuses mainly on Windows Metro-Style configuration and will help you build projects using wonderful metro style features. This framework makes use of Microsoft's metro style to offer developers the freedom to build different grids, styles, and layouts. It comes bundled with over 20 components and has become extremely popular as a CSS framework.
The kind of CSS framework you choose to use will depend entirely upon the type of project you are looking to create and build. These 10 top CSS frameworks of 2017 can help aid you in your quest. So choose the right one according to your need and ease of usage.